Around this time of year, the inimitable Krampus tends to steal the spooky holiday spotlight. But that horned monster in league with Santa isn't the only Christmas cryptid. In fact, he might not even be the worst.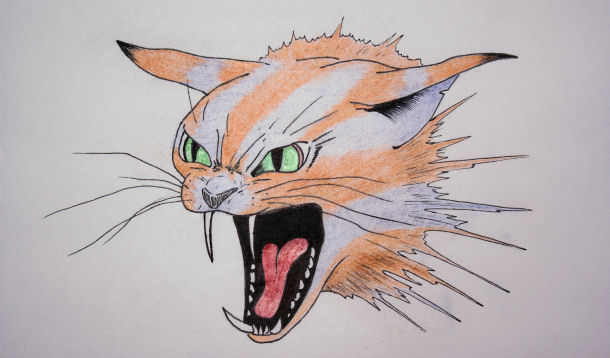 With the wonderfully Icelandic name of Jólakötturinn, the fanged Yule Cat is not a beast to be trifled with. In fact, when it comes to Jólakötturinn, you shouldn't trifle at all.
Why not trifle, you might ask? That's because an Icelandic tradition promoting hard work governs the Yule Cat's feeding schedule. Every Christmas, the most devoted workers get at least one new item of clothing under the holiday tree. These cool new duds show just how much effort both children and adults invested over the previous twelve months. That's right; this tradition started in the nineteenth century AKA a world before child labor laws.
But for those who didn't earn new socks or a new jacket, they didn't simply have to suffer in cold, hole-ridden threads while admiring the new clothes of their contemporaries. No, that wouldn't promote nearly enough abject terror. Instead, individuals still wearing all of last year's wardrobe would be stalked and eaten by Jólakötturinn. No word on whether the Yule Cat feast occurs on Christmas Night, meaning that if only your Great Aunt's train hadn't been running late, then perhaps your brand new sweater could have saved your neck. Darn the holiday delays!
Like any good cryptid, specifics concerning the Yule Cat are hard to find. For example, is this Jólakötturinn an altogether new species of feline, one that's attracted to the smell of old, moth-infested laundry? Or can an ordinary cat work hard and graduate to the title of Yule Cat? In fact, are all cats perhaps secretly studying to become future flesh-eating monsters?
A Yule Cat in Training.
We can't be sure, which means for now, cat owners the world over must sit back and watch for signs of would-be Yule Cat antics. For the safety-minded, here is a handy guide that can determine whether or not your cat might soon go for the jugular or otherwise carve you up like a holiday ham.
1. Does your cat chew on random objects or gnaw on your hands when you pet her? If so, these are clear indications your cat is a hopeful contender for the Yule Cat crown.
2. Does your cat nest frequently on recently laundered clothes? Yes? This is because she wants to memorize the fresh scent of detergents (i.e. new clothes that will save a holiday reveler's life). Extra points if your cat also kneads the clothes of guests and even complete strangers. She is attempting to learn the subtle differences in grocery store laundry detergent brands.
3. Likewise, does your cat enjoy resting on coats and clothes you've recently worn? Don't make the mistake of thinking your scent gives your pet comfort. She is in fact learning the smell of worn clothes so as to compare it with the aroma of new clothes. This is a dead giveaway that your cat plans to kill you next year if your mother doesn't buy you new pajamas.
4. Does your cat take extra interest in holiday décor, including but not limited to the holiday tree, holiday ornaments, and gifts, both wrapped and unwrapped? This is the most gravely serious symptom of would-be Yule Cat behavior. Each time she climbs the tree or bats at an ornament, she is pretending she is a giant monster and the festive accoutrements are your flayed skin.
Please be sure to keep your eyes peeled for these signs of impending Yule Cat doom, but whatever you do, don't mention Jólakötturinn by name. This will simply encourage your cat. After all, anytime you tell your feline friend not to do something, that's precisely the thing she does. So be sure to keep your family safe this wintry season while denying the very existence of this terrifying holiday cryptid.
Happy holidays, and here's to wishing you and yours an array of new clothes! Nothing like an ugly sweater to scare off an Icelandic Yule Cat!